In my RISD senior thesis collection, Family Portrait, I chose to explore the narrative of a family through my unique lens. Across these six looks, my goal was to accomplish a collection which felt cohesive in its lack of cohesion. I wanted each look to feel as though it was a distinctly different character, yet also related at its core to the other "members" of its fashion family. The making of the second half of my collection shifted to accommodate the COVID-19 quarantine. As I finished the remaining looks, the context in which I viewed my collection changed entirely. Due to the cancellation of RISD's annual senior runway show, I had to discover a way to document the collection without access to human models.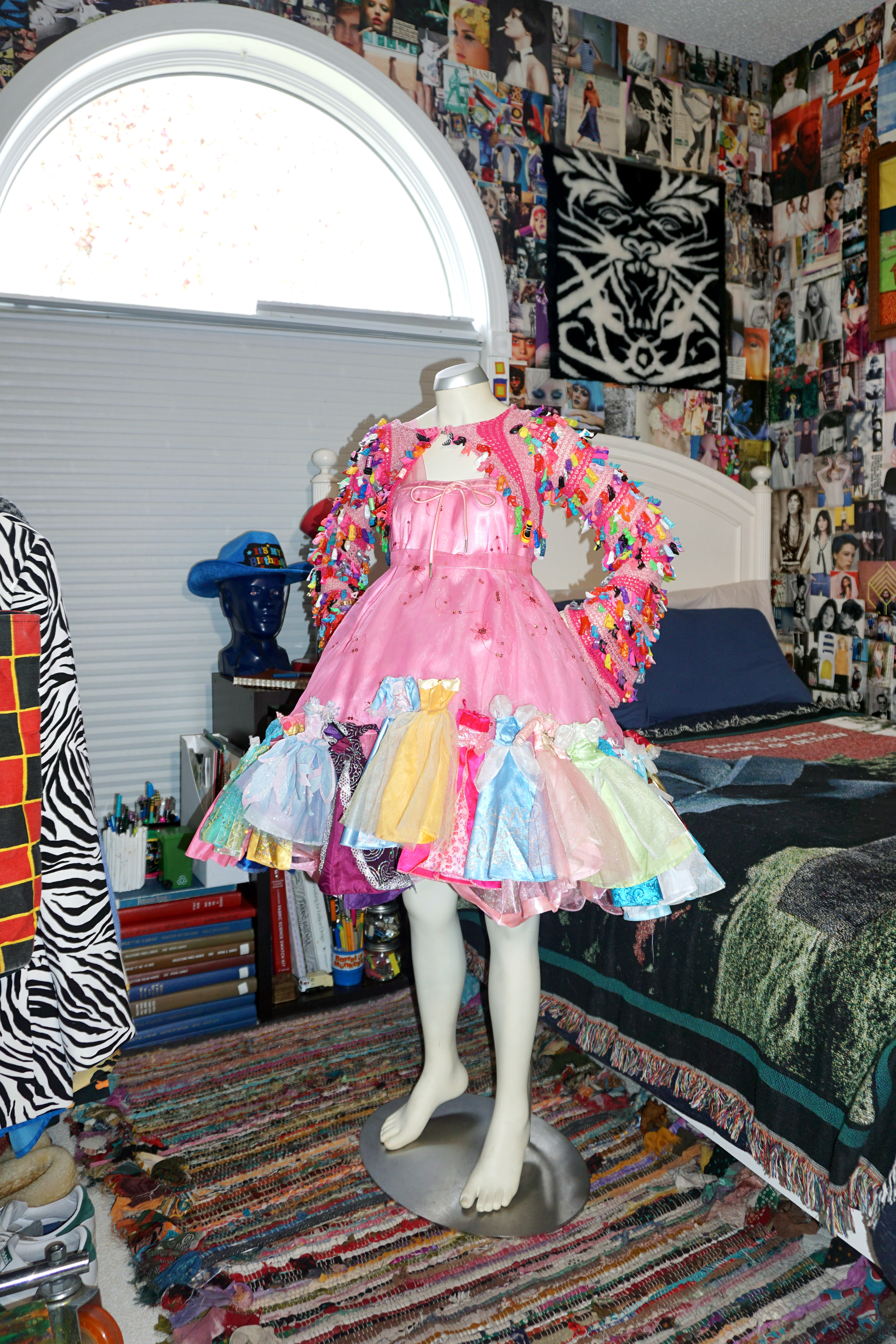 I ultimately used damaged mannequins that were being discarded by a local mall to create a surreal universe for my collection, dressing these blemished figures and placing them within my childhood home. 
Suddenly, my environment became my work's environment, and I realized that perhaps my family's home had been the reality those characters were meant to live in all along.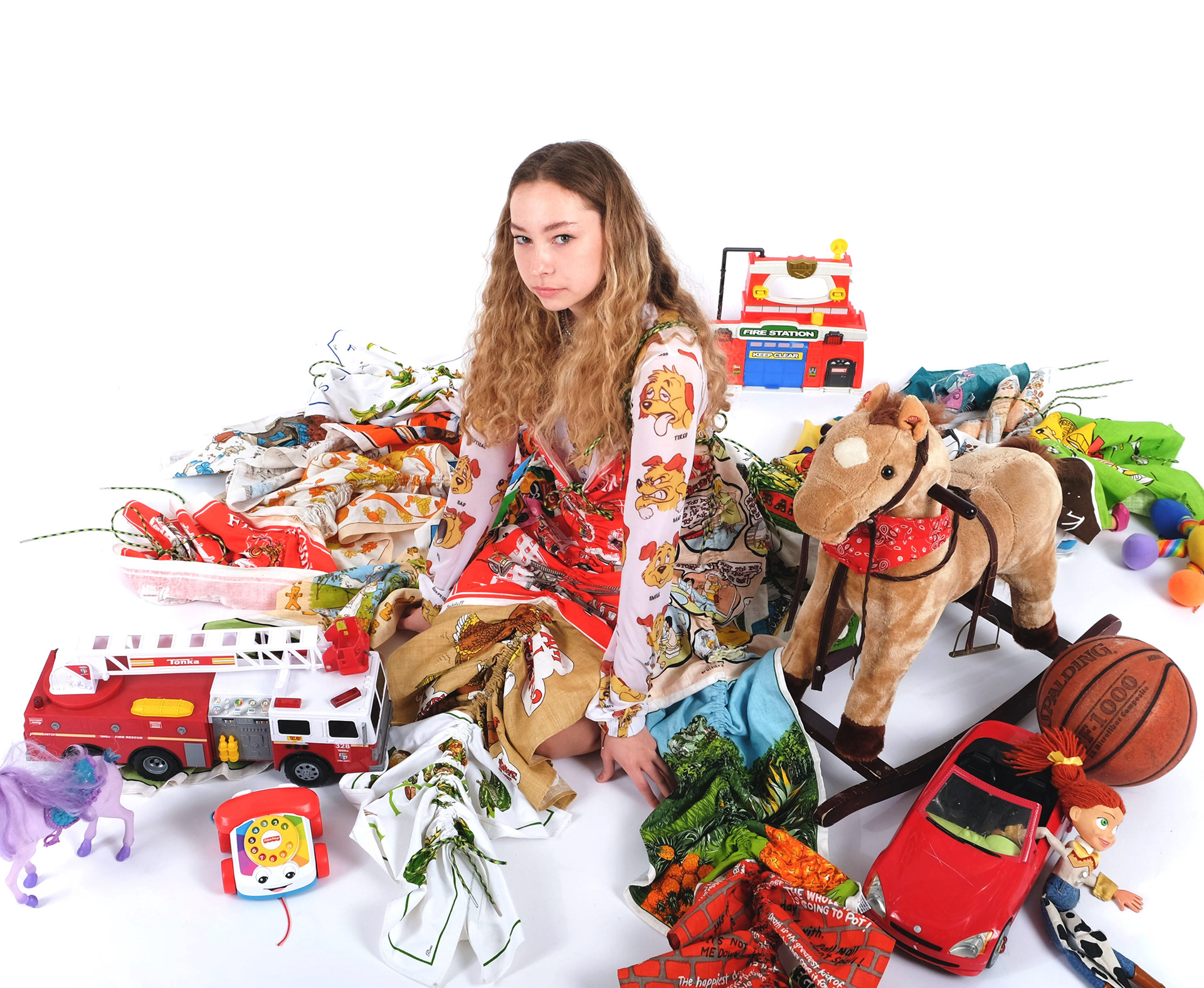 Look 1 in the collection is meant to portray the mother figure. The dress contains approximately 30 vintage linen tea towels, which I selected based on memory and personal significance. The top was made using a digitally printed mesh fabric with a scan of one of the original tea towels. I used cording to create volume while cutting into as little of the original textile as possible.
Look 2 is meant to portray the father figure. The outerwear piece in this look is constructed entirely out of my dad's old Hawaiian shirts from trips taken to visit my mom's side of the family in Honolulu. The shirt and pants feature enlarged prints of one of the original shirt designs digitally printed onto crushed velvet and organza with a family photo frame belt buckle.
Look 3 represents the grandmother figure. The top is made out of leftover beads from jewelry I used to make and sell at craft fairs growing up. The dress is made out of digitally printed crushed velvet with a scanned print of the same beads used to make the top. The skirt is the bead design printed on organza, and the head scarf is printed satin.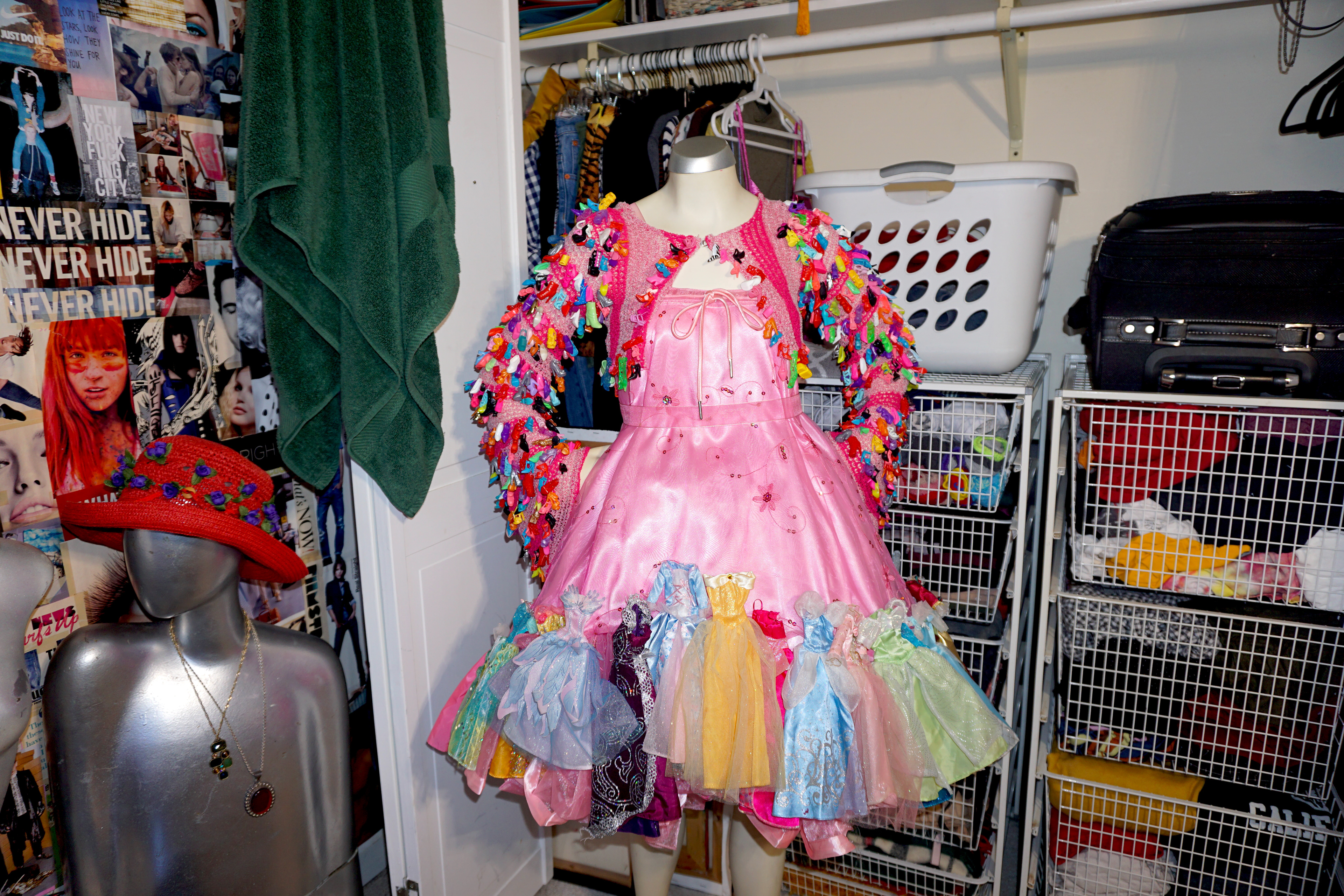 I wanted Look 4 and the two remaining looks to be able to be interpreted as though they could be different people, or that they could be the same person growing over time. Look 4 is a children's wear piece meant to be the youngest phase of the character. The dress is made out of old curtains with doll gowns added as a ruffle. The cardigan is hand embellished with doll shoes.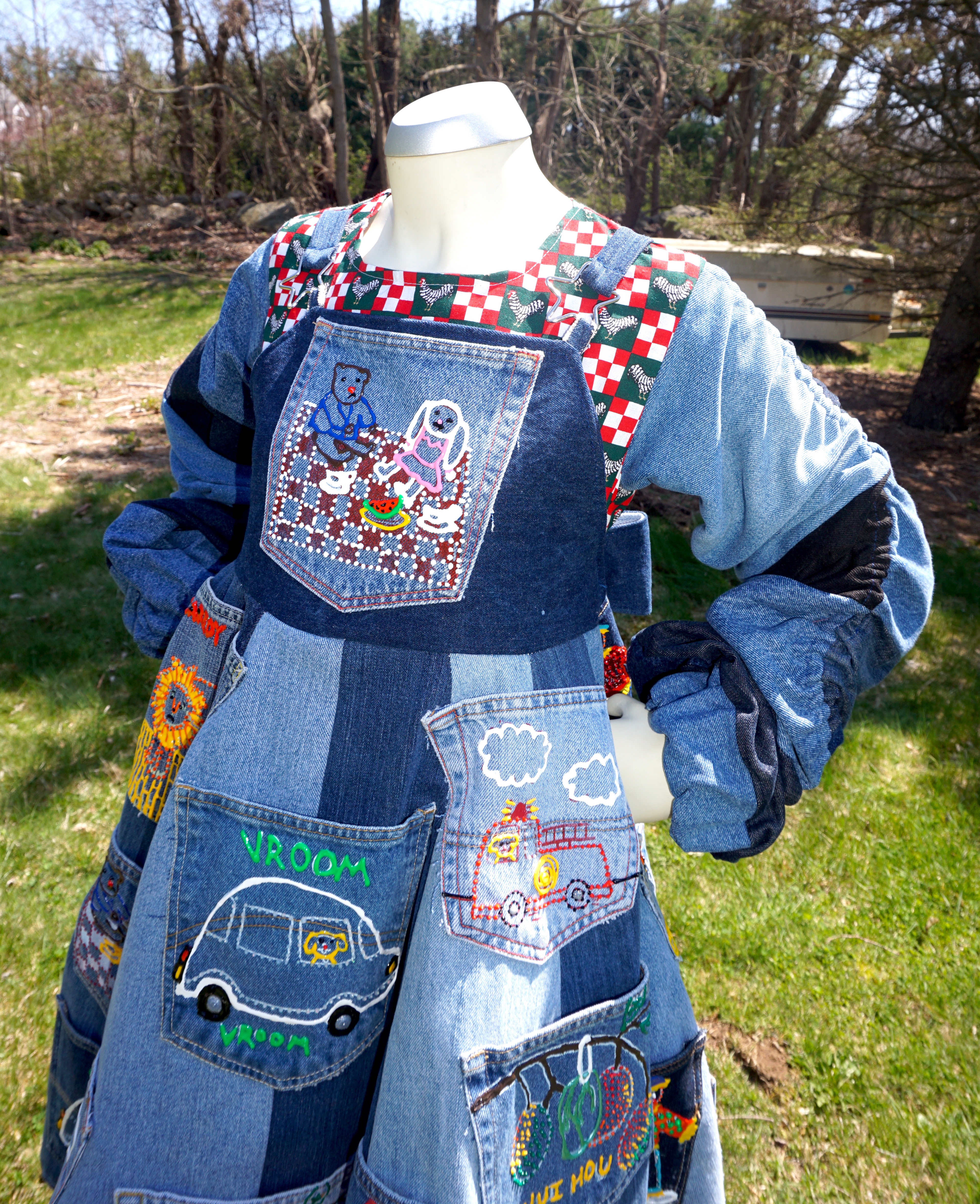 Look 5 is meant to be the next evolution of Look 4. This children's wear dress is made entirely out of second hand denim and vintage cotton. This look is a collaboration with Nellie Konopka (RISD PT '20), who designed and printed the screen prints on the denim pockets, as well as my mother, Cathy Grinfeld, who added all of the puffy paint designs on top.​​​​​​​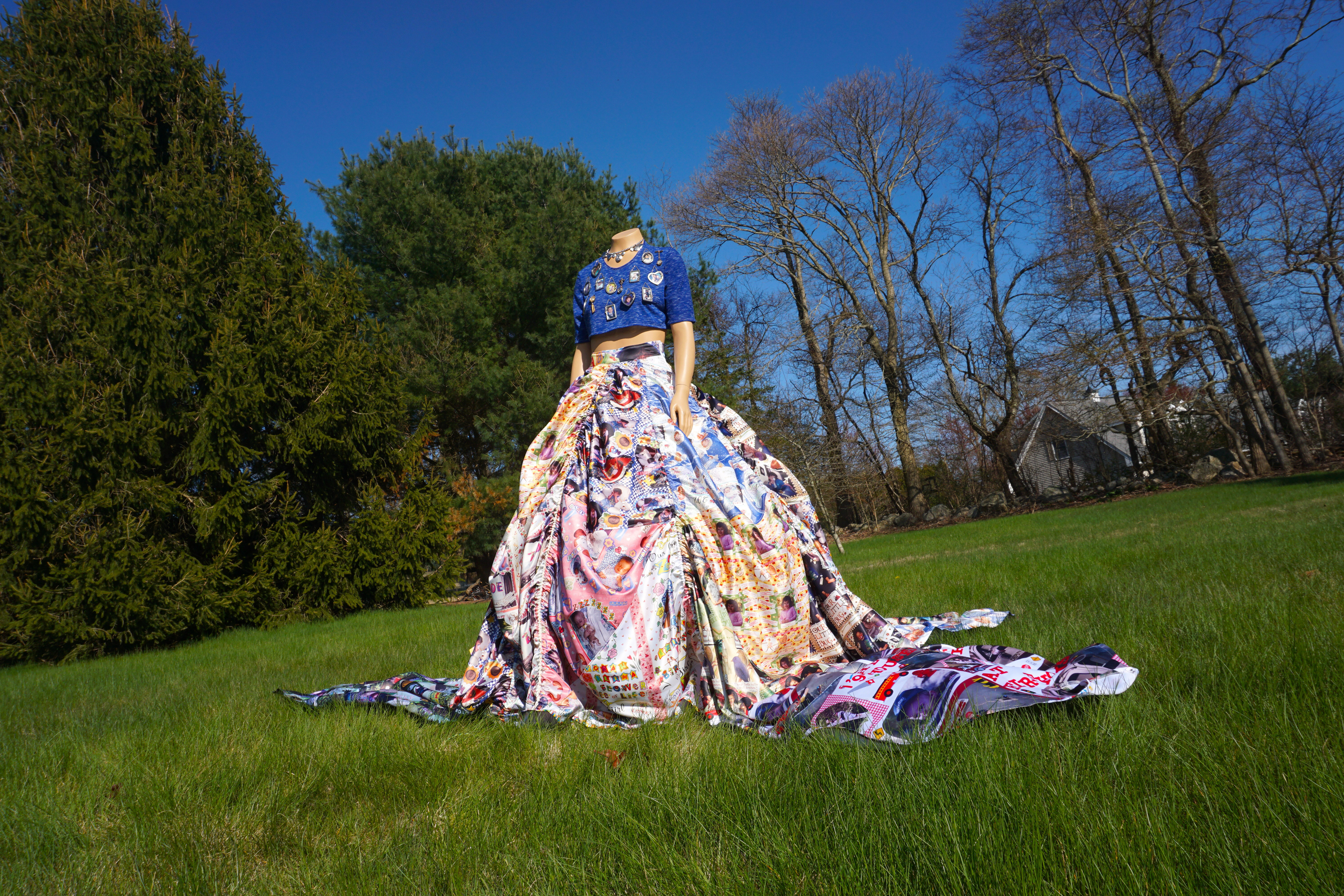 Look 6 in the collection is meant to be the final evolution of looks 4 and 5. Scrapbook pages my mom made were digitally printed on satin and constructed into this 34-piece skirt with steel cage crinoline understructure. I wanted to create a top that felt casual in comparison to the formal skirt, so I made a t-shirt using vintage photo frames I found in my Grandmother's house. The digital prints of the skirt were made using scans of the scrapbook my mom made when I was growing up that visually inspired the whole collection.
Look 6 was originally designed in CLO 3D garment visualization software. ​​​​​​​
Locket jewelry designed for the collection.
Editorial photos by Sarah Mazer.